Jamaica's Usain Bolt followed last week's record-breaking exploits at the World Championships with another blisteringly fast 100m in Zurich.
The world and Olympic champion, who set a world best of 9.58 seconds in Berlin, came from behind to beat compatriot Asafa Powell in a time of 9.81.
Powell finished in 9.88, followed by Americans Darvis Patton (9.95) and Michael Rodgers in 9.98.
Sanya Richards won the 400m to retain hope of the $1m Golden League jackpot.
The American won in 48.94 seconds, the fastest time in the world this year, with Britain's Christine Ohuruogu down in fourth place in 50.41, and Nicola Sanders sixth in 51.02.
I would say this was a shaky race
Usain Bolt
Richards needs to win the 400m in the last Golden League meet in Brussels next week to be one of the jackpot winners - the prize goes to the athlete or athletes who win their event in all six of the Golden League meets.
"I stayed in my race and waited until the top when I knew I'd be strong," said Richards.
"The jackpot for some reason doesn't add a lot of pressure or stress on me. I'm going in very confident that, as long as I execute, I know I can win."
Russian pole vaulter Yelena Isinbayeva also remains in the hunt after setting a new world record of 5.06 metres, as does Ethiopian Kenenisa Bekele who won the 5,000m in 12 minutes 52.32.
Kerron Stewart of Jamaica saw her jackpot challenge end as she came second in the women's 100m behind Carmelita Jeter, the American finishing in 10.86.
And Britain's Lisa Dobriskey (3:59.50) followed up her 1500m bronze medal in Berlin with a third-placed finish behind world champion Maryam Yusuf Jamal of Bahrain and American Anna Willard.
Highlights - Bolt's golden championships (UK users only)
LaShawn Merritt of the USA repeated last week's 400m victory as he ran 44.21 to again finish ahead of Jeremy Wariner (44.62).
Bolt was not entirely happy with his form despite setting one of the fastest times in history.
"I would say this was a shaky race," he said. "My body was sitting at the start, I was a little bit tired through the race.
"All things considered, the time is not bad. I needed to pick up my speed as my body did not respond well to the race."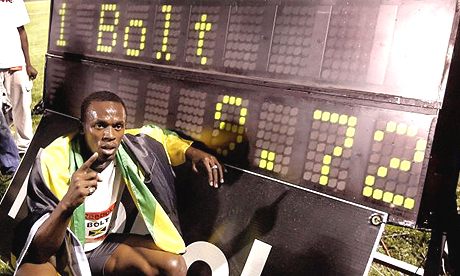 Powell, the bronze medallist in Berlin, said: "I have 9.6 in my legs and at my next meet I'm going to put it on the track. Everyone has to go out with that in mind, that they can beat Usain.
"He's way ahead of the crowd right now but we're really playing catch-up. We'll get there somehow. Usain is taking the sport to a whole different level and we are going up there to join him."
Britain's Tyrone Edgar finished last in the 100m in 10.28.
Bolt later led Jamaica to victory in the 4x100m relay, clocking 37.70 to the USA's 37.73.