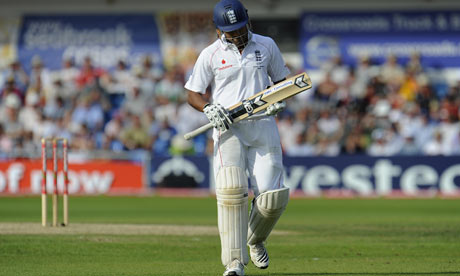 Fifth Ashes Test, The Oval, day one:ENGLAND INNINGS
1158 - Eng 47-1 (13 overs)Bell rotates the strike with a leg bye - he has 15, Cap'n Strauss is on 17. He's watchful against Clark, while Umpire Rauf is characteristically concerned that no-one should run on the "protected area" in the middle of the pitch.
From Ian, TMS inbox: "Good morning, I look at Ian Bell and see the cricketing equivalent of Charlie Hodgson in rugby, both brilliant club men with skills in abundance and a sure foot but both simply not able to hack it in the big games and in front of big crowds. Don't know the answer to this."
1154 - Eng 46-1 (12 overs)Left-arm paceman Mitchell Johnson replaces Siddle, his first ball is dug in at Bell's ribs, there's a huge appeal for a catch behind, Umpire Rauf raises his arm... only to pat his ribs, indicating where the ball struck Bell (ie not his bat or gloves). Oh, you big tease, Mr Rauf. The second ball rears up and strikes Bell on the body, the third is also short, it pings off his gloves and could have gone anywhere... but dribbles safely towards fine leg for a single. The skipper jabs a single to bring Bell back on strike for another short-pitched barrage. But that's a double bluff as Johnson pitches the ball up and Bell steers a single through the covers.
From Jonno, via text on 81111: "I am in a Chinese internet cafe and weeping while sat alongside hundreds of gamers. I now rely on Andy and Bello to rack up the same tally as the tetris expert on my left."
1148 - Eng 43-1 (11 overs)Strauss works Clark off his legs for a couple, but it's pretty accurate stuff from the right-arm seamer.
From Matthew Dale, TMS inbox: "For Giggsy in Leamington - Bell has not recovered from when I had him caught and bowled at a Coventry North Warwick II's v Leamington II's Sunday league match. He was only 12 at the time though!"
1144 - Eng 41-1 (10 overs)Strauss works Siddle for a single through square leg, then Bell opens the face to guide a four past gully. He nudges a no-ball through mid-wicket for one, while my esteemed colleague Paul Fletcher (who's helping me cope with the mountains of e-mails with which you're carpet-bombing the TMS inbox) informs me that you're all talking about the weather... Can it really be four years ago since all that Oval high-jinks which saw English fans raise umbrellas in the hope of attracting rain, Aussie fans take their shirts off by way of riposte, and Ponting's men walk on after a bad light delay, all wearing sunglasses?! Strauss prods another single, Bell works his third four off his thigh down to long leg.
1138 - Eng 29-1 (9 overs)While CMJ and Vic Marks on TMS are concerned about the risk of play being halted by bad light or light rain, Punter is clearly more concerned about that loose over from Hilfenhaus as he brings the accurate Stuart Clark into the attack. Quite why it took the Aussies four Tests to pick Clark, I'm not sure... He immediately has Strauss fishing just inside the line, then the umpires have a quick mid-over conference - is it light-related? Possibly - the floodlights appear to be on now, and predictably in the time it took them to sort that out, the natural light has improved slightly. Strauss nudges one off his pads and Umpire Bowden signals a leg bye.
1133 - Eng 28-1 (8 overs)Bell tries to duck a bouncer from Siddle and only just manages to get his gloves out of the way in time (see CMJ's comment two overs ago) - a slow-mo replay shows it may have even flicked his wrist. However, the Warwickshire man is finally off the mark as Siddle bangs in a half-volley which Bell comfortably steers through mid-on - although it only just reaches the boundary.
From James, Leamington, TMS inbox: "I think Ian Bell is still psychologically struggling from being run out when he was 15 in a youth cup final by my rather rotund mate. His confidence hasn't been the same since."
1129 - Eng 24-1 (7 overs)A soberly-dressed Kevin Pietersen looks on as Strauss crashes a loose delivery from Hilfenhaus through point for four, before helping an even wider ball through the same area for four more. Hilfy is a bit off his game this over as he sends down a couple of no-balls, while Strauss adds a couple more off his legs. Meanwhile, back in the pavilion, Jonathan Trott is literally biting his nails. Wouldn't you be?
From dodger9 on 606:
"Cook has had a rubbish series. Key must be wondering what he has to do to be selected in this England team."
1123 - Eng 12-1 (6 overs)So, Ian Bell is very much back under the microscope following his elevation to number three. "He's never learnt to drop his gloves to the short ball", notes CMJ, and Bell is then hit on the thigh pad as he tries to guide Siddle through gully, but he survives the over.
From Alex, Istanbul, TMS inbox: "Can we all breathe a collective sigh of relief that Bopara isn't coming in at three? I don't think my heart could take it!"
1121: Big psychological boost for Australia, that - Ponting doesn't drop those.
1120 - WICKET - Cook c Ponting b Siddle 10 - Eng 12-1 (5.3 overs)The hosts reach double figures as Cook steers a shorter ball from Siddle through mid-wicket for four. But then it's all over for him as he edges to second slip!
1118 - Eng 8-0 (5 overs)Cook swats Hilfenhaus off his pads for a single. Even the crowd are a little becalmed by this opening.
TMS's teatime guest Stephen Fry on Twitter:
"Why do I wish we'd lost the toss? I hate it when we bat first. Tremble tremble"
1115 - Eng 7-0 (4 overs)Strauss nudges Siddle for a single to fine leg, then Cook stabs a quick one to extra cover. The overhead clouds have not prevented Siddle from coating both lips in white sun cream - it's tense so far, with neither side looking to give an inch.
From Ash, Northants, TMS inbox: "English teams have lost in both the Champions League and Heineken Cup finals, as well as losing in the U21 and U19 finals. The Wimbledon semi-final curse struck again, the Lions lost. We even lost to Holland in the Twenty20. Not a great summer for British sport, but surely we can't lose the Ashes as well, right?"
1111 - Eng 5-0 (3 overs)Alastair Cook faces for the first time - "he looks like he's conducting the Proms, the way he twiddles his bat round", says Jim Maxwell on TMS. Anyway, the Essex maestro is off the mark with a firm cover-driven four. That's my kind of music.
From Dale, Tipton, via text on 81111: "The decision to play Harmison looks like a wrong one, Darren Pattinson has done more for England over the past few years than the lanky 'wide' man!"
1107 - Eng 1-0 (2 overs)The snarling Peter Siddle will share the new ball, and his first offering is a yorker which Strauss digs out. The left-hander then plays and misses a couple of times, before having to weave out of the way of a lifter - maiden over, Siddle looking the more dangerous bowler so far.
From Andrew, TMS inbox: "I think England will win this Test. We have stronger characters, bigger personalities and a big crowd behind us. Having Freddie back and a very dangerous Harmison will win it for us, I think "
1103 - Eng 1-0 (1 over)Ben Hilfenhaus takes the first over from the Vauxhall End, and his first ball floats harmlessly outside Strauss's off stump. As do the next four - there's no hint of swing so far. AJ shoulders arms to a couple, then finally gets bat on ball to the final delivery and pushes a single through the covers.
1058: "Jerusalem" is sung, Ricky Ponting and his troops emerge through a tunnel of St George Cross flags and link arms in a Michael Vaughan-style "huddle". England openers Strauss and Cook emerge to a huge ovation - while it's a fairly safe bet that today's A-Level results will be even better than last year's (for the 1,194th consecutive year), who can predict what will happen over the next five days of gladiatorial combat? That's why we love the game - bring it on!
1055: And if you can bear another "manual refresh" as the five-minute bell goes, you should even see a vote magically appear on the right-hand side...
1051: If you didn't see
TMS producer Adam Mountford's blog
earlier this week, you can listen out for a couple of celebs joining Aggers and co this week - Stephen Fry is due on during the tea interval today, while pop songstress Lily Allen will be joining on Saturday.
Former Somerset and England off-spinner Vic Marks on TMS: "This is a huge game, but a big personality like Flintoff has the ability to defuse any tension in the dressing-room because of his presence, let alone what he does in the middle"
BBC Sport's Ben Dirs on Twitter:
"About 20 minutes ago I thought Twitter was rubbish. Now got about 200 people following me. Think it's ruddy brilliant now"
From Peter Edwards, TMS inbox: "Good toss to win, shame about the team decision, can't believe Strauss and management have gone with the inconsistent Harmison than one of the leading wicket-takers in the series, Onions!"
1040: Oh, and the umpires are New Zealand's Billy Bowden and Pakistan's Asad Rauf. Former Yorkshire and Hampshire seamer Peter Hartley is on TV replays, ex-Somerset and Gloucestershire batsman Jeremy Lloyds is fourth ump and ex-Sri Lanka batsman Ranjan Madugalle is match referee.
1037: Right, here are the full teams. England: Andrew Strauss (capt), Alastair Cook, Ian Bell, Paul Collingwood, Jonathan Trott, Matt Prior (wk), Andrew Flintoff, Stuart Broad, Graeme Swann, Steve Harmison, James Anderson. Australia: Shane Watson, Simon Katich, Ricky Ponting (capt), Mike Hussey, Michael Clarke, Marcus North, Brad Haddin (wk), Mitchell Johnson, Peter Siddle, Stuart Clark, Ben Hilfenhaus.
From Sean Dickens, TMS inbox: "A pity Rashid never had a look in, pretty pointless having Monty in the squad when his stats don't stack up as Vic suggested. Best of luck England, hope the game is still on come Sunday, 'cos that's when I've got my tickets !"
BBC Sport's Ben Dirs on Twitter:
"Handing out KP masks outside The Oval. If only..."
1032: Australia captain Ricky Ponting tells TMS: "The surface looks reasonably dry so our fast bowlers will have to do well early on. We've gone with the four-man pace attack so hopefully our part-time spinners can do well for us here."
1031: Strauss tells TMS: "It's what we wanted to do - the wicket looks like a good one to bat on so we've got the opportunity to put a good score on the board. We thought about playing Panesar but we didn't think it would turn too much here."
1030: England captain Andrew Strauss tosses the coin, Ponting calls incorrectly... England have won the toss and will bat first.
1028: The TMS crew are on the air, and we have confirmation that Andrew Flintoff will play - he replaces Graham Onions, while Jonathan Trott is in for Ravi Bopara. Australia are unchanged
1025: Oh, and if you're wondering why Tom and Ben are not at the helm for this crucial Ashes decider, Tom has been using his multi-event decathlon skills at the World Athletics Championships in Berlin, and
you can follow him on Twitter.
Meanwhile, we've despatched the Dirs to The Oval, where
he will be tweeting as well.
Mind you, just about everyone connected with this match seems to be tweeting these days -
Aggers,
Alison Mitchell,
Graeme Swann
and
Jimmy Anderson
(still relishing Burnley's win last night) to name but a few.
From Ollie (rather worried) in Dorking, TMS inbox: "I don't wish to be the messenger of doom but dark swollen rain clouds are over Dorking and heading rapidly in towards you!"
1018: They say you can have too much of a good thing. Well, if manual refreshing is your thing, hit it again and you should get the TMS video scorecard at the top of this screen.
1013: Morning, everyone. Well, despite the best efforts of a certain dastardly train company, I've made it in - big thanks to Paul for kicking things off. (Give the text a manual refresh and you'll get my name in lights up top). What can I tell you? Well, the sun was shining over The Oval's famous gasholder as my train clanked past at the speed of Arjuna Ranatunga "running" between the wickets - and the latest word from both Jonathan Agnew and Pat Murphy is that England will leave out Monty Panesar, Ryan Sidebottom and Graham Onions.
By Paul Grunill
1010: He's in da house - so, ladies and gentlemen, for your delectation, all the way from behind that door (thanks, Jools Holland), Mr Mark Mitchener.........
"You have got some big shoes to fill Paul. Tom Fordyce is the Syd Barrett of cricket commentary and Ben Dirs is the king of metaphor. If there is a lull in the action i expect lots of chatter about edwardian times and ugly princesses."David in the TMS inboxSorry to disappoint but this is my last post for the time being - anyway I'd much rather be the David Gilmour of cricket commentary.
"nothing like a bit of excitement going into the final teest eh?? hopefully freddie will be able to pull something out of the bed and shine. as long as his back doesnt give in!!plus new boy trott? i think we will see something interesting from him today!!Ben, awaiting A level results and a university place, in the TMS inbox (Good luck with that, Ben - PG)
"Hooray, Final test. Was out in my boat this week, got caught out in high seas, waves bigger than the boat, boat standing up in its tail, water everywhere, and i had a moment of epiphany- the thought went something like this .... "I don't want to die....before the end of the ashes...." come on England!"Josie in the TMS inbox
1000: Only an hour to go now. Blimey, I'm excited. This is almost as nerve-wracking as watching Barnsley's penalty shoot-out against Swansea in the League One play-off final two or three years ago.
"I'm sitting at my desk enjoying English Marmalade slathered on butter drenched toast, watching the convict ship tea leaves sink into the depths of my Earl Grey tea wishing I were at home preparing the fridge for my beer keep the texts rolling! I feel all the portents point to English victory." Huw in the TMS inbox
"TMS will be on every communal TV and radio in the hospital I work in today. I have built-up this match with all the patients on the wards to such an extent even the non sporty types are counting down the minutes 'til play begins. The consensus is Harmison must play. Edith, who has just had her hip replaced, reckons he'll take 6-93. Let's hope so eh."Tracy in the TMS inbox
"My masters dissertation deadline is tomorrow at 4pm, I aim to finish it as soon as possible so i can concentrate on the most important thing this week!!!"James, Edinburgh (working furiously) in the TMS inbox
0950: So just how are England going to win this game? One person who might be worth listening to is the ECB's consultant psychologist Steve Bull. "When a player is under pressure, they can forget how good they are and forget the great accomplishments in the past," he says. Unfortunately for England, I think Australia have a few more 'great accomplishments' to look back on.
Read a full interview with Steve
"Do you have enough power on your debut to instigate an on-line poll? If so we need to vote between: Trotty, Trottster, Trottski, The Trottster. This won't matter, of course, if he makes a king pair. Mark in the TMS inbox
0945: I've just been informed that Mr Mitchener's train has been delayed so you're going to have to put up with my Bobby Chariot act for a bit longer. (For Bobby Chariot - see Alexei Sayle's Stuff circa 1988). The rumours now are that Panesar won't be playing - but which quickie will make way for Fred's return? Has Graham had his onions for now?
"Building up to it here in Japan...4 years ago the Ashes ended with me and a Kiwi mate toasting the stars at 4am, jubilantly tipsy, and expected at work less than three hours later. Who knows what the next five days hold, but it's going to be monumental for sure. Come on England!"Chris in the TMS inbox
"I hope that my non attendance to this game will help. I may have been a bad luck charm at Headingley. Throat's as dry as a badgers belly, but I think we can do it!!"Rob, Northants in the TMS inbox
"My current computer password at work is "Flintoff" and I've just been told that my password will expire in two days. Is this some kind of grim omen?"Ryan, expat in Sydney, in the TMS inbox
0940: A number of you have been asking about the weather at The Oval. Well, 5 live's Mike Sewell has just used the phrases "absolutely perfect" and "hot, sunny morning", so that's a bit of good news for England first up.
"Morning Grunny…I've got a good feeling about this test. I asked my 23-month old daughter Alice who would win the Ashes and she said "Mummy". That's as good as an England win for me. Steve in the TMS inbox
"Just for the record, the preferred epithet for sandwiches on these pages is 'sangers'. 'Sarnies' is a word too Australian by half to be considered anything close to acceptable."Whitters of London in the TMS inbox(Just for the record, I'm from Yorkshire - PG)
0930: In BBC cricket correspondent Jonathan Agnew's match preview, he speculates about whether England would go with two spinners and bring in Monty Panesar. Seems like a big gamble to me given the Montster's form this summer, but which XI do you think England should pick? And if any Aussie fans are reading this - should Brett Lee be unleashed alongside the 'young guns', Hilfenhaus, Johnson and Siddle?
Read Jonathan Agnew's preview
"The last time I was this excited my mother told me Santa wouldn't come unless I calmed down. What's the weather like there? Bit overcast in Reading... ideal swing conditions for who ever bowls first."Gaz in the TMS inbox
"No offence Paul, but 'OO ARE YA, OO ARE YA?'"Matt, Nottingham, in the TMS inbox
0920: Let's not forget that Australia only need to draw to retain the Ashes, but playing for a draw isn't the Aussie way, is it? According to former Aussie Test star Justin Langer, Ricky Ponting is likely to be "salivating at the chance to make a huge impact in this game". If England can't stop him from doing so - making a huge impact, that is, not salivating - they can kiss the little urn goodbye.
Read Justin Langer's column
"I didn't sleep well last night, when I did the dreams were of England 50-6 at lunch today. It somehow feels different from 2005, but I don't know if it's because back then I presumed England would lose, but now, I don't know. It's the hope that kills me!"Russell, inevitably doing no work, Nottingham, in the TMS inbox.
"From the future...Just thought I'd let you know that this is the test match that everyone talks about for the rest of time. Many commentators marked this game as the turning point in the history of the resurgent British Empire, and the start of Freddie's inoxerable march to his Presidentship of the world." Anonymous in the TMS inbox
0910: According to Anton Ferreira, Trott's former South Africa under-15 and under-19 coach: "You can draw similarities between Jonathan and Pietersen. There is that presence at the crease, the ability to command respect and give the impression that he is in control." I wonder whether Trotty (or should it be Trotters?) can repeat KP's ton at The Oval four years ago......
0905: While travelling in on the tube an interesting comment caught my eye from Alastair Cook's column in the Metro newspaper. Talking about England new boy Jonathan Trott, Cookie said: "The pressure is off him really because no-one will expect him to score a century". No-one except a few million people around the country, perhaps!
"My mouth is watering so much, my desk resembles the Edgbaston outfield of a few weeks back. Hard to believe the Ashes summer is coming down to these next 5 days. Love it."Paul, Ealing, in the TMS inbox
0855: Anyway, stop talking about last night's football. Put down your bacon sarnies and tell me what you think is going to happen at The Oval. Is Freddie's body up to another inspirational performance in a Test match he has described as "the biggest I'll ever play in"?
0850: You may be asking the question: 'Who is this Grunill bloke? And what's he doing on the Ashes text commentary?" Well, don't worry, I'm just the warm-up act - my esteemed colleague Mark Mitchener will be 'at the helm' for the next five days of what hopefully will turn out to be exhilarating action.
0845: After the shambles of Headingley, the odds appear to be heavily against England but as the sage Henry Blofeld tells BBC 5 live's breakfast show: "Cricket is a game where logic applies very seldom." All England fans hope he's right.
0840: Morning all. Well, what a mouth-watering prospect we have in store. One-all, the Ashes at stake and Freddie Flintoff set to take centre stage for the final time in a Test match. I can hardly wait.