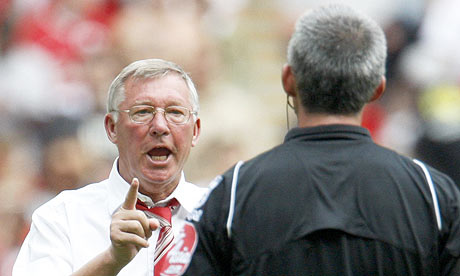 Manchester United boss Sir Alex Ferguson believes Chelsea midfielder Michael Ballack should have been sent off during the Community Shield match.
Chelsea won on penalties after a 2-2 draw but Ferguson was unhappy with Ballack's challenge on Patrice Evra in the build-up to the Blues' second goal.
"If the referee sees it properly it is a red card," said Ferguson.
"He has clearly elbowed him. The referee had a clear view of it, he was in line, he should have seen it."
Ballack appeared to deliberately obstruct Evra, who went down injured, but referee Chris Foy did not award a foul and seconds later Chelsea midfielder Frank Lampard scored.
We need to improve further but I like our mental attitude and we're ready to start a very important season
Carlo Ancelotti
"The referee made a rod for his own back," added Ferguson.
"He stopped play twice, once when Nani was tackled, then on the second occasion Ballack went down, which we've seen before.
"The referee said it was a serious incident when Ballack went down but he was up straight away. So I don't understand why he didn't do it with Evra.
"When you see the replay you see Ballack has elbowed him but it's hard to blame the Chelsea players for carrying on. It's a professional game."
Chelsea manager Carlo Ancelotti, who won his first piece of silverware since moving to London, agreed that his team did nothing wrong.
"A referee can stop the play and also the players can put out the ball," stated Ancelotti.
"They didn't see Evra on the pitch so they continued. If they had seen him a Chelsea player would have put the ball out."
United had taken the lead at Wembley through Nani, who later suffered a dislocated elbow, but second-half goals from Ricardo Carvalho and Lampard then gave Chelsea the lead.
Wayne Rooney struck an injury-time equaliser but Petr Cech saved from Ryan Giggs and Evra as Chelsea won the shoot-out 4-1.
And afterwards Ancelotti said his team are ready for the Premier League season.
"We need to improve further but I like our mental attitude and we're ready to start a very important season," commented the Italian.
"United will be the most important opponent in the Premier League because they are a great team.
"In the first half, Manchester played very well and we didn't play for 30 minutes.
"We improved in the second half because we put more strength on the field and we deserved to win.
"We have to improve because we changed a little bit the play of the team and we still have to work."
But Ancelotti denied reports that his club are poised to sign Brazilian Pato from AC Milan for £45m.
"It is not true because Pato is a Milan player," said the Italian.
"He is a young player and Milan believe a lot in Pato. They sold Kaka and now Pato is an important player for them."