South Africa's new 800m world champion Caster Semenya has been 'humiliated' for being asked to take a gender test, the country's athletics body has said.
BBC News website readers for South Africa and other African countries have been sending in their reaction to the news.
It think whoever is in charge should be reasonable enough to understand that people are born with different characteristics.
Doesn't the world knows that there are people born with a lot of abnormalities in their nature? They are only concerned over her manish looks because of her outstanding performance. Munyaradzi, Thohoyandou
What the IAAF did is disgusting to say the least. Is it because she is black or African? It is unfair to her and the whole country. We, as a country, are proud of her.Phanuel Chauke, Johannesburg
This is absolutely disgraceful! The treatment Caster Semenya has received just reeks of jealousy and racism.
However, it doesn't surprise me how an outstanding African athlete's gender comes into question. Would she have been treated differently if she were a white Eastern European?
Just look at the physical frame of the hammer throw and discuss athletes, yet their genders are not in question here.
Caster, you're a champion in my books. The poise and grace you are dealing with this matter makes you a true champion - on and off the track. Lesley, Port Elizabeth
It is clear that we judge people by their looks. Her mother has stated categorically that her daughter is a daughter, surely she should know. Now she has to be subjected to intense scrutiny simple because "some people" say that she does not conform to their idea of feminine looks.Guy Tanzer, Cape Town
The IAAF have insulted her dignity by the way they have publicly discussed the issue. Even drug cheats are not humiliated in this way before results are known.
I hope that when she is found to have passed the test, she will be recognised as a true champion in both her athletics and her grace in the face of this torment. Alan Thompson, Durban
This whole situation has been highly unfortunate as it should have been a moment of great joy for not only Caster, but South Africa as a whole.
I just hope it gets resolved soon as Caster's life has got to go on regardless of whatever some test may say. From speaking to a few friends and colleagues, South Africans are fully behind you Caster. Thank you for the effort and the GOLD!PB, Johannesburg
REACTION FROM REST OF AFRICA
Congratulations to Semenya. I am Kenyan and I was supporting Jepkosgei. Semenya ran a great race and the issues about her gender will be sorted later. I wonder how those claiming she is not female will react when they are proved wrong? Congratulations Semenya.Antony Kaara, Nairobi, Kenya
I think we should give her a chance. Let the doctors test her and clear her name once and for all. Then let's accept her as she is. There are many women out there who look like men.Moses Bukachi, Nairobi, Kenya.
She is being maligned simply because of her looks and build. It makes one wonder if this would have occurred if she was American.
Also, if she submits herself to a test and is confirmed a female, will the athletics body offer a public apology to her and her country?
I feel for the young woman as it is still a human soul with feelings and emotions that has to bear the shame of public conviction before a trial.Jimi Curtis-Joseph, Lagos, Nigeria
The IAAF needs to drop this issue. Firstly, why is it only after she won gold and broke the record that they want to subject her to this test? I wonder, if she hadn't won, would the IAAF have done the same thing? Irimayi Muzorewa, Harare, Zimbabwe
I'm inclined to believe that Semenya's crime was to win world races with great margins. Had she been average, there would have been no doubt about her gender. To this extent, the gender test order is a traumatic embarrassment. Shame on the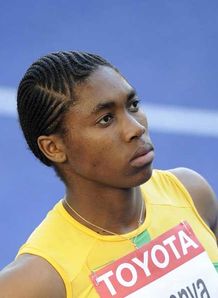 IAAF! Mudukula Mukubi, Lusaka Zambia