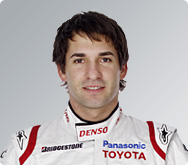 McLaren's Lewis Hamilton topped the timesheets in a frantic second practice session for the Belgian Grand Prix.
The Englishman's lap of one minute 47.201 seconds saw him snatch the lead in the final two minutes of the 90-minute session at Spa-Francorchamps.
Toyota's Timo Glock was second ahead of Kimi Raikkonen's Ferrari and the Red Bull of title contender Mark Webber.
Championship leader Jenson Button's Brawn was only 17th, a place ahead of team-mate Rubens Barrichello.
Toyota's Jarno Trulli led the way in a rain-affected morning practice session but it was bright and sunny in the Ardennes mountains on Friday afternoon.
The rain-hit first session meant the teams had little time to waste as they sought to fine tune their race set-ups for Sunday's grand prix in the day's second session.
The session was briefly red-flagged at the start when Ferrari's Luca Badoer lost his front-left wheel fairing at Blanchimont.
But it was not long before Red Bull, and Webber in particular, were living up to their billing as race favourites.
Many observers expect Red Bull to dominate this weekend's grand prix as their car seems tailor-made to thrive along the fast and flowing contours of the famously undulating Belgian track.
Conserving engines will be tough - Vettel
The Milton Keynes-based team were quick to demonstrate their impressive aerodynamics, especially through the twisty middle section of the Spa circuit.
Sebastian Vettel was 10th quickest in his Red Bull but the German completed fewer laps than anyone else in an effort to protect his recycled Renault engine.
Each driver can use eight engines in a season and the German suffered two engine failures at last weekend's European Grand Prix in Valencia, meaning he has now used up half of his quota for the season.
"It was a little bit lucky to have rain this morning," admitted Vettel after practice.
Alonso targets high grid position
"[And] in the afternoon I felt comfortable with the car, we didn't have any problems and I'm quite happy with the performance."
Hamilton's fastest effort of the day was more than a tenth of a second quicker than his 2008 Belgian pole lap.
"It [the car] has definitely passed the test today but it still didn't feel fantastic," said Hamilton. "We've still got some changes to make to the car but nevertheless we are still competitive, which is the most important thing.
"I'm definitely not unhappy but I know we can be better.
"I've always said we are not great on the high-speed corners and you're really starting to see it, especially in the middle sector (of the lap). A lot of the faster guys - the Red Bulls and Toyota - seem to be destroying us there. But we have the Kers (power-boost system) and we have a good car in the first and last sector."
Button and Barrichello struggled to record the 17th and 18th fastest times of the second session.
Button in particular seemed to be unhappy with his car's set up and complained on team radio that the back end of his Brawn was "snapping" at Eau Rouge.
"The second session this afternoon was much more useful [than the morning]," said Button. "We worked through a few aero and downforce comparisons as well as looking at the tyres.
Trulli keeping his options open for 2010
"We collected a lot of information but obviously at the moment we're not as quick as we would like to be. There are a few areas that we do need to improve on with the balance but the potential is there to do that ahead of qualifying."
Elsewhere, Renault new boy Romain Grosjean caught the eye by posting the fifth-quickest time of the second session.
The Frenchman who made his race debut in Valencia, was half a second quicker than his two-time world champion team-mate Fernando Alonso in Friday's second practice.
Practice sessions generally have little bearing on race results but they are a useful chance for the teams to gather data and road test any adjustments they have made to their cars, especially now that in-season testing has been banned.
The third and final practice session takes place at 1000 BST on Saturday ahead of qualifying at 1300 BST