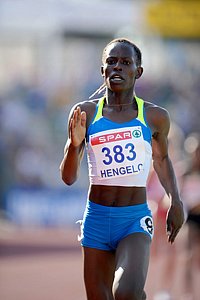 Brussels, Belgium - Pamela Jelimo secured the $1 Million ÅF Golden League Jackpot outright, as Blanka Vlasic's hopes of at least a share of the prize fell at the sixth and final stage of the ÅF Golden League 2008, the Belgacom Memorial Van Damme, which was played out in front of a sell-out 47,000 crowd in the King Baudouin Stadium.
Heavy rain fell before start of the main meeting timetable, but the Gods looked kindly again on Belgium's greatest annual sporting spectacle, as while the air felt damp throughout the two hours of main action the rain cleared and temperatures stayed in the 16 to 18C range.
$1 Million goes to Jelimo, as Vlasic loses out
Olympic champion Pamela Jelimo was aided to another fast time by Beijing fourth placer Svetlana Klyuka. It was a simple run. The Kenyan followed the Russian from the gun, and with about 550m of the women's 800m completed (the bell had sounded at 55.40 sec) the pacemaker stepped off the track, and Jelimo was then left alone on an uninterrupted path to the $1 Million ÅF Golden League Jackpot, winning the race in 1:55.16, a meet record.
World champion Janeth Kepkosgei filled her usual position of this season behind her younger compatriot, second in 1:58.85, with Jamaica's Kenia Sinclair third in 1:59.11.
But with the other Jackpot contender Blanka Vlasic still competing in the women's High Jump as the 800m was worked off, it still remained unclear if the entire pot of cash or just a $500,000 share would be enjoyed by Jelimo by the end of the night.
However, Vlasic, who dislikes wet runways, was very tentative at every height of her competition, and always looked in danger of losing her share of the prize.
In Beijing Vlasic saw the Olympic gold slip away on count back to Belgium's Tia Hellebaut after they had both produced a marvellous 2.05 performance but hers only on the second try to the Belgian's first. This evening Vlasic lost a potential $500,000 in similar manner to Germany's Arianne Friedrich, who like the Croatian and Hellebaut jumped a best of 2.00m. The dividing line this time was 1.97, a heavy looking Vlasic needing a second attempt to clear, as opposed to Friedrich's first.
There was an electric atmosphere to the competition as with every leap of Hellebaut, Belgium's first ever female Olympic track and field gold medallist, the capacity crowd clapped and cheered loudly. The Belgian ended up third, needing three efforts to go over 2.00m, while the two athletes ahead of her were successful on their second approaches to that bar.
No consolation prize for Vlasic but Jelimo's dreams are realised
"I couldn't find my technique on the wet track," said Vlasic. "I'm very sorry but not because of the money but because this was (to be) the consolation prize for this season but in the end I was just too tired because I had so many jumps."
As one athlete's hopes were dashed, another's dreams came true.
Jelimo on accepting the cheque for $1 MIllion from IAAF President Lamine Diack said "I'm happy I realised my dream, it is the same happiness as in Beijing."
Bolt outstanding again
Usain Bolt seems to delight in leaving the blocks as late as possible and then letting his long legs play catch-up. Tonight his 0.223 reaction to the gun was the slowest of the entire nine-man 100m field. He had also been the slowest from the start in Zürich a week ago. No matter, we were watching the triple Olympic champion from Beijing who took sprinting into a different orbit there with his three World records (100, 200m, 4x100).
By the midpoint Bolt was back in contention, and another few strides took him to equal first with race leader Asafa Powell. By the line of course Bolt was in the winning position, the clock stopping at 9.77 sec, the equal sixth fastest run of all-time. Powell was the next to finish, his time 9.83.
The wind was minus 1.3m/s!!!!Renowned statistician and an IAAF Media Consultant Mark Butler advised us that the quickest anyone had run into such a breeze before was USA's Leroy Burrell who dashed to 9.97sec in his Olympic semi-final at the 1992 Barcelona Olympics, which helps to put both Bolt and Powell's runs into some focus.
The two men are great friends. In the call room this evening they were joking around, with Bolt even going to the trouble of pinning Powell's bib number to his running vest. It was then no surprise that the two went on a lap of honour together after the race.
Bolt's season we are told is now at an end but Powell goes to Rieti, Italy, this Sunday (7) for another IAAF World Athletics Tour meeting having run his 9.72 PB in Lausanne on Tuesday. Last year, Powell set his then World record in Rieti in the heats of the meeting (9.74).
Cheruiyot defeats Defar
It was supposedly a 5000m World record bid by World champion Meseret Defar but such ambitions were discarded by the 24-year-old Ethiopian when with less than 4 laps to go, she was over 10 seconds down on the required pace and found herself in the company of Kenyan record holder Vivian Cheruiyot.
The pair stayed together like this, Defar ahead with Cheruiyot a stride or so behind for most of remaining laps. Then just before the last straight was entered, the Ethiopian looked behind her nervously, and it was abundantly clear that a sprint battle was about to be unleashed.
The attack initially came from the Kenyan, but Defar at first repulsed the challenge though her legs didn't look as steady as usual, and with about 20 metres to go her knees finally buckled a little, enough for Cheruiyot to take the win in a meet record of 14:25.43. Defar was second in 14:25.52. It was one of the biggest shock victories of any event this season. The Kenyan had finished with the silver behind Defar in Osaka last summer.
The winner commented that, when a few days ago she had heard this would be a World record attempt by Defar she had thought, "this will be a good opportunity to beat my PB."
"I have had two months on and off before the Olympics because of illness… but now I'm healthy again…. I nearly always come behind Defar and so to beat her is very nice," confirmed Cheruiyot.
Farewell Kim
Twenty-five minutes into the meeting and the entire crowd rose to their feet in unison to greet their double European champion Kim Geveart, 30, who was running into retirement in the women's 100m. The send-off was electrifying, the Belgian's winning time wasn't, 11.25 (-1.1m/s) but that was of little consequence to the spectators on an evening on which saying goodbye to their home heroine was all that counted. The victory was a nice bonus but in statistical terms it meant very little, it was a moment for emotion not maths!
Gevaert is the reigning continental champion at 60m (indoors) and 100m / 200m outdoors, and anchored the Belgian team to Olympic 4x100m silver in Beijing.
Ennis-London over Jones
The women's 100m Hurdles was taken by Jamaica's Delloreen Ennis-London in 12.65, ahead of USA's Lolo Jones, whose form since her Beijing disappointment has, with the exception of her Zurich win last week, been suspect. The World Indoor champion ran 12.67 for second heading Spain's Josephine Onyia (12.71).
Wariner and Clement take assured wins
Jeremy Wariner, without his Olympic nemesis LaShawn Merritt in the field to threaten him, was a confident winner of the 400m with a dominant 44.44 sec victory.
It was a similar story in the men's one lap hurdles, as there was no Olympic champion, Angelo Taylor, on show, and without that challenge World title holder Kerron Clement took a comfortable win. The American was not actually in the lead until coming off the final hurdle, but it was an immaculately timed run and as he pulled away from the long time leader, Jamaica's Danny McFarlane, it was clear that the American had plenty to spare. Clement won in 48.29, McFarlane was second, 46.63, and another Jamaican Isa Phillips was third (48.92).
The women's 200m also went to the USA, thanks to a 22.62 run by Marshevet Hooker in 22.62. That was enough to hold off pre-race favourite Jamaica's Kerron Stewart, the Olympic bronze medallist. Hooker had finished fifth in the Beijing final.
Ups and downs for the Olympic champions in Pole Vault and Javelin
In the infield, the wet runway from the early evening rain made the Pole Vault a bit of a mockery. Olympic champion Yelena Isinbayeva only attempted two heights, the 4.72m with which she won the competition on her second try, and the three failures she had at 4.85. No other vaulter scaled heights beyond 4.56 in a below par competition thanks to the weather conditions.
The men's Javelin Throw was also a bit flat, but with it came an upset win for Finland's World champion Tero Pitkämäki whose first round 85.32m was enough to secure victory over his fellow Beijing medal podium members, Ainars Kovals of Latvia (84.76), the silver medallist, and double Olympic champion Andreas Thorkildsen of Norway (82.39). Not quite the same surprise as Defar's defeat but this was still a below par performance by the Norwegian who has dominated this season otherwise.
The other field event, the men's Long Jump was taken by American Miguel Pate with 8.02m, his only valid result of the night. No other man jumped over 8m. No need for further comment!
Solid quality but unspectacular men's middle and long distances
Youseef Saad Kamel took a well timed and comfortable 800m victory. The bell sounded at 49.81sec, and when the pacemaker left the track just after the end of the penultimate bend that was when the former-Kenyan now competing for Bahrain came into the picture. By then the Olympic champion Wilfred Bungei was already starting to struggle for pace, with World titleholder Alfred Kirwa Yego offering the greatest challenge to Kamel who won in 1:44.56.
Yego held off the late challenge of Morocco's Amine Laalou with the two being credited with the same time – 1:45.01 – but separated into second and third in that order by the camera.
World season leader Paul Kipsiele Koech might not have made the Kenyan Beijing line-up but he at least took the scalp tonight of the 3000m Steeplechase champion from China, his compatriot Brimin Kipruto who is also the World champion from 2007.
1000 (2:38.65) and 2000m (5:22.22) had been passed at a fast pace but once the final rabbit, Patrick Langat, left the track with two laps to go, the speed had already washed out of the legs of tonight's long term protagonist Koech, who eventually finished in 8:04.99. There was a season's best of 8:10.26 for the Olympic champion in second.
A scrappy men's 1500m was taken by Bahrain's Ali Belal Mansoor with a 3:35.94 run which beat from the leader at the bell, Morocco's Abdalaati Iguider, who fought hard with the former Kenyan all the way down the home straight, finishing in 3:36.14, enough to deny a late finishing Nick Willis of New Zealand (3:36.23).
Before the main programme began, the men's 5000m was played out in torrential rain, with the runners splashing along a sodden track (if a synthetic surface can by its nature absorb water?), with the Olympic silver medallist Eliud Kipchoge bringing home a Kenyan sweep in 13:06.12. Isaac Songok followed him across the line (13:06.71) beaten in the last lap sprint. Third went to Mang'Ata Ndiwa in 13:07.46. He had led the race through 3k in 7:57.14.
At the other end of the night, the men's 10,000m was taken by Sileshi Sihine of Ethiopia, the multiple global silver medallist who for once was unshackled from competitive concerns about double Olympic champion Kenenisa Bekele, who had ended his season last weekend. Sihine came away with a 27:06.97 win in the 10,000m. 5k had been passed in 13:34.20 by pacemaker Jonathan Komen.
Kenya's Moses Masai who along with Sihine had been part of a pack of four in front in the latter stages of the race and who had done much of the pace-making during that same period, held on for second in 27:07.36. Closely following him home were Kenyan Bernard Kipyego (27:08.06) and Qatar's Ahmed Hassan Abdullah (27:09.11), both men setting season's bests.
Chris Turner for the IAAF