1323: Jenson Button on the radio to Brawn, reporting "the rear end moving around a lot even through Eau Rouge, sounds like it's snapping." Oh dear.
1319: Lewis Hamilton is now top with a 1:48.347. Mark Webber second, Fernando Alonso third. The Brawns are ninth and 12th.
1315: For those of us stuck in the office, that's a sickening text from Miss Pitstop. Probably not her real name. The leaderboard has taken on a more sane look. Mark Webber is the man in P1 with a 1:48.361 ahead of Fernando Alonso.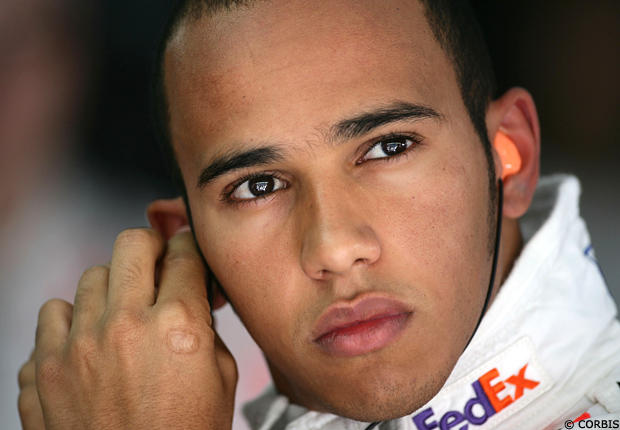 From Miss Pitstop, via text on 81111: "We're sat at Pouhon, this is perfect Spa weather, full waterproofs this morning, sun tan lotion this afternoon! Say hi to everyone back home."
1309: The session is back under way. It may not surprise you to learn that the debris at turn 17 was from Luca Badoer's car. However, it may surprise you to learn that it wasn't the Ferrari driver's fault. His car lost its left front wheel fairing coming into the corner.
1305: Ah. The red flag is out. Not sure why. Sebastian Vettel's Red Bull is being pushed back into the garage, but that can't be the reason. The message flashes up on the screen that debris is being cleared from Blanchimont.
BBC pit-lane reporter Holly Samos: "I interviewed Jenson Button yesterday and he was slightly irritated. He had one bad race last week, and the media - not just the Brits - are asking 'have you really got it?' He has never lead a championship before and he has been leading this one for 11 races now. He is the hunted. He is trying to protect his lead - but he's desperate to get back on the winning podium again."
From Hywel on 606:
"I fancy a surprise package to be up top this afternoon - let's go for Nakajima."
1300: The green light is on, and there's a McLaren first out... It's Heikki Kovalainen.
1253: While you were gone, we learnt that the
start time of the Abu Dhabi Grand Prix has changed
and the final race of the season will be run at 1700 local time (1300 GMT), finishing at dusk. Should be pretty spectacular, especially if the title race goes down to the wire.
Rubens Barrichello on Twitter:
"It is not raining anymore so FP2 should be dry."
1247: Dry weather means Lewis Hamilton and Seb Vettel should at least post a lap time this afternoon. Vettel is preserving his engines, having used up four of his allotted eight already this season. Not sure what Hamilton's excuse was. Perhaps he just fancied a lie-in.
1241: I'm looking at Spa now, and it seems the sun has got his chapeau on again, which is good to see. Meanwhile, some thoughts from His Murray-ness on Luca Badoer... "He's certainly not the worst F1 driver ever. He was put into the car at the very last moment and he hadn't driven in a GP for 10 years. He wasn't the greatest driver back then, but as far as I'm concerned, anyone who gets to drive an F1 car is a star. Luca Badoer is an effective driver. His problem in Valencia was he hadn't had any race experience for a very long time."
1230: Welcome back. Hope you've had a productive couple of hours. I've been watching
Murray Walker's latest Q and A,
and very much enjoying the unique filming techniques employed. Watch as Murray speaks via a reflection in a pond! Marvel as Murray pops up like magic from behind some foliage!! I think it is my new favourite feature of the BBC Sport website, apart from my own work obviously.
1039: For the record, all the top 10 times on that leaderboard were set in the dry. Time for a short tea-break now. I shall return at 1230 BST. Actually, that's quite a long tea-break, I might even fit in a biscuit or two. See you then anyway.
1037: So those Alonso rumours - and I repeat, rumours - go like this: McLaren are desperate to keep sponsors Santander on board next season, amid reports that the Spanish bank are set to switch their support to Ferrari. So McLaren have asked Santander if getting Alonso back to McLaren would help... Whitmarsh's words seem to put an end to all that nonsense though.
1033: Jarno Trulli took advantage of the dry start to that session to top the timesheets, ahead of Jenson Button, Fernando Alonso, Sebastien Buemi and Jaime Alguersuari. Sebastian Vettel and Lewis Hamilton failed to record a time.
1030: The chequered flag comes out, but this is much more interesting: there are some remarkable rumours flying about that Fernando Alonso could move back to McLaren next season. Team boss Martin Whitmarsh is asked about them on BBC 5 Live Sports Extra, and almost chokes before laughing and saying: "I don't think he'll be coming back here quite so soon. I haven't spoken to Fernando or his management about his return."
1026: Ted Kravitz reports that Kimi Raikkonen was lounging about at the back of the garage, thinking his session was over - but Ferrari have told him they want him out on the track again. Apparently, the Finn looked "non-plussed about the situation". I imagine that boy was born looking non-plussed about the situation.
1022: Force India tell Adrian Sutil that they don't think it's going to "dry out enough for standards" so they'll stick some wets on the German's car so they can get the set-up sorted for those tyres. Heikki Kovalainen slides off into the gravel at Rivage, but controls it well and avoids the barrier.
BBC pit-lane reporter Ted Kravitz: "I'm not sure if you can read anything into this, but I've just seen Rubens Barrichello being pushed back into the garage. Normally, there is steam coming off the tyres after a long run in the wet - but there was no steam on Rubens' tyres. Does that indicate a problem with tyre temperature? Or maybe he just took it easy on the in-lap and they cooled down."
1010: We've now got 18 times on the board. Only Sebastian Vettel and Lewis Hamilton yet to show their hand. Still very wet though, so the numbers aren't that special.
1009: And speaking of Kimi: does he deliberately wear a cap that is far too large for him, in the manner of a hip-hop bad boy? Or is his head so small, there are no caps that fit him?
1004: Another enlightening interview from Kimi Raikkonen on the
official Formula 1 website today.
I think it's fair to say that the Finn is absolutely buzzing about the prospect of racing at Spa, where he has won three of the last four races. "It's a nice place and I always like to race here," he roars.
From the_jazzdevil on Twitter:
"No-one putting any credence or bets on a surprise from Raikkonen then?"
1000: The rain appears to be easing off, but BMW tell Bobby Kubica that the wet conditions are likely to stick around until the end of the session. Mercifully, there are a few more cars on the track. No one's going to beat Jarno Trulli's time though.
0956: Someone's off... and it's not Luca Badoer, it's Sebastien Buemi sliding gently into a barrier. Not too much damage, I don't think.
0952: Still drizzling out there. Only the Toro Rossos and Luca Badoer are braving the wet. Ten drivers haven't even put a time on the board yet. Little over half an hour of the session remaining.
0948: Hold on to your hats, here comes Luca Badoer. It is cruel that drivers' surnames are shortened to three letters on the leaderboard.
From Henry from London, via text on 81111: "Why does Snoop Dogg carry an umbrella? Fo' drizzle."
0942: And as Antony Davidson observes, this is probably the first time Spanish rookie Jaime Alguersuari has driven an F1 car in the wet. Not surprisingly, he's taking it very gently.
0940: The clock's ticking down, but there are no cars on the track. It's throwing it down. Wait a minute. Who's that brave soldier? It's Jaime Alguersuari tiptoeing around in the wet. He's on full wets.
BBC Sport's Sarah Holt in Spa: "Nico Rosberg finds himself a wanted man in Spa - or at least that's the idea anyway. The 24-year-old is being linked with a move to McLaren for 2010 once his contract with Williams expires at the end of this year and everybody wants to know how much truth there is in the rumour. Rosberg himself says: 'It's an interesting option. I'm talking with several teams and I'm pleased because I have some good opportunities for next year.' Rosberg hasn't been on the podium this season but reckons he's done enough to put him in the drivers' shop window: 'I'm fifth in the world championship; there's no way I could have done better than that.'"
Antony Davidson on rumours linking him to an F1 return: "I am a bit frustrated. I want to get back in an F1 car. Hopefully next year I'll be back. But that's all I'm going to say. I don't want to be accused of bigging myself up."
0933: While rain may be good news for race mayhem, it's bad news for practice. This shower - which is actually quite heavy - has all the drivers scurrying back to the pits. "If it was me," says Antony Davidson on BBC 5 Live Sports Extra. "I wouldn't want to be out there."
Jarno Trulli on BBC Radio 5 Live Sports Extra: "Spa is the best circuit in the world but it has the worst weather, you never know what is going to happen here. It's the most challenging circuit we go to but when you get it right it feels like you are flying."
0930: And it is raining. Rubens Barrichello finally gets past Renault's Romain Grosjean and holds up his hand at the Frenchman in annoyance.
0927: It seems there is rain expected today. Renault tell Fernando Alonso that if it comes, it will arrive at turns 14 and 15 first. Now that is a precise forecast.
From goodyafl on Twitter:
"Hoping Webber can pull a win here, as much as I like Brawn, gotta support the fellow Aussie!"
0920: Entertaining kerfuffle in the Ferrari garage as Jules Bianchi, who is the latest driver to be linked with Luca Badoer's seat, stands behind Badoer's car like some kind of Grim Reaper. I think he has been asked to move aside. Meanwhile, we have a time on the board: it's Jaime Alguersuari with a 1:53.552 if you're interested.
From Andy, Tooting, via text on 81111: "My guess is Sutil to monster practice, Badoer to improve slightly and for it to be a Red Bull v McLaren battle for pole."
0915: If you're wondering why everyone is saying Red Bull are going to walk it this weekend, here's BBC Sport's F1 guru Andrew Benson: "Some of you may be wondering why everyone is saying Red Bull are going to walk it at Spa. The answer is to do with the car's performance in medium- and high-speed corners, which is explained by the quality of its aerodynamics and specifically what is called in F1 circles its l/d figures. That's (negative) lift over drag. In other words, it creates more downforce for a given drag level than any other car. That's why Red Bull marmalised the opposition at Silverstone - and why they are expected to do the same in Belgium."
0910: Just to add: Horner says Vettel's engine failures are nothing to do with the driver. He also says the team haven't ruled out using Renault engines next year. "We're evaluating our options at the moment," he says.
Red Bull team boss Christian Horner: "Out of the eight engines, Sebastian Vettel has blown half of them. He's got two used ones, and two new ones left. He'll be having an extended coffee break this morning. We're going for quality not quantity in practice. We're trying to avoid the ninth engine, but we can't afford another failure."
"An important day for Brawn GP to see if the tyre heating issues are solved."
"Watch out for the Toyotas this weekend - I had visions during the week of Timo Glock doing something special..."
David Croft on BBC 5 Live Sports Extra: "On paper, this is Red Bull's race, you'd take Vettel and Webber in any order. They should make mincemeat of the opposition."
0900: And the green light is on, Seb Vettel making an early appearance under cloudy skies in Belgium.
BBC Sport's Sarah Holt in Spa: "You know those T-shirts you get; 'I Heart New York', 'I Love Leicester' (yes, they do exist). Well, I'd like one that says 'I Heart Spa.' It's just brilliant here. First of all, there's the track; all the history played out on its rises and falls through the pretty wooded slopes of the Ardennes mountains. As if that wasn't enough, we arrived in the town of Spa itself last night and I was overcome with childlike glee when I glimpsed the funicular, chocolate shops, cafes ringed with fairylights and actual miniature houses. The rest of the BBC team laughed though when I'd said I'd like to come back on holiday. Anyway, enough of that, who's going to be fastest: Red Bull, Brawn or McLaren?"
From Phil, via text on 81111: "Looking at the live leaderboard, that's the only time Badoer will be that far up there!"
0853: James, you think I haven't already pitched that one? Another one of my brilliant feature ideas criminally ignored... And I know the video's not there yet, bear with me, it will be in the next couple of minutes.
From James under the duvet in Rochdale, via text on 81111: "Caroline, I'm shocked. Why not push for a spa at Spa? The ultimate race experience."
0851: Cripes, do me a favour and give this page a manual refresh so we can all wipe out the memories of the formatting problem in that last entry. You should also be able to see the video if you're in the UK, so you're ready to go at 0900 BST.
0847: Pete, haven't had my first sighting of the circuit yet, but I'm sure Sarah Holt will be in touch soon with a weather report. Meanwhile, this is her latest rather troubling
tweet:
"Billowing smoke coming from trees on the run down to Pouhon. Seems to be coming from woods & not the track. Hopefully won't delay practice."
From Pete in Bath Spa, via text on 81111: "Is it wet or dry there? Wet here!"
0842: Spa, they say, is a circuit that only the truly great drivers can master. Fangio, Senna and Schumacher are all multiple winners in the Ardennes Forest. So then, Adrian Sutil, looks like your time has come. Or maybe, just maybe, you think someone else might boss it this weekend. You be sure to let me know via text on 81111, on
606
or on
Twitter.
0836: …I told them: "Well, I hope you mean I'm on live text commentary duties for the Belgian Grand Prix, not three days of having fine champagne forced down my throat and being subjected to tiresome pampering treatments."
0830: Now, when they told me they'd booked me in for a Spa weekend...