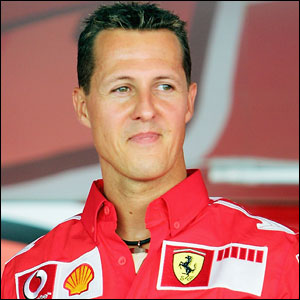 Seven-time Formula 1 world champion Michael Schumacher says the world title is Jenson Button's to lose this season.
With four races to go and 40 points up for grabs, Button leads Brawn team-mate Rubens Barrichello by 14 points, with Red Bull's Sebastian Vettel in third.
"Looking at the situation, I'd pretty much expect Jenson to fix the title," Schumacher told BBC Sport.
"It's very hard to take it away, particularly knowing the problems and reliability issues Red Bull have had."
Button began the season in awesome fashion, winning six of the first seven races but since then his title charge has faltered in alarming fashion, with the 29-year-old's mental toughness coming in for scrutiny.
But there was a welcome return to form for Button when he finished second at the Italian Grand Prix on 13 September, his first podium place in six races.
The race at Monza was won by Barrichello, who has recorded victories in two of the last three races, and Brawn have insisted that they will allow an "open" fight between their two drivers for the title.
The title race could well boil down to a battle between Button and Barrichello, with a lack of reliability dealing a major blow to Vettel's title challenge.
The German has failed to score any points in two of the last four races and has used his eight permitted engines already this season. If he needed to use a ninth in any of the remaining races, he would incur an automatic penalty of 10 places on the grid.
Speaking ahead of the Singapore Grand Prix, Schumacher admitted problems with the Red Bull car were likely to have killed off his compatriot's hopes of the title.
606: DEBATE
Button has only ONE rival and that is Barrichello. Red Bull have blown their chances big time over the past few races
moreinjuredthanowen
"With the (engine) mileage Sebastian has left in his hands, it's going to be a tough challenge - the points difference is normally too big already," he said.
Vettel's Red Bull team-mate Mark Webber is also still in contention of pipping Button, but the Australian will have to make up a 28.5-point deficit in the closing stages of the season.
Schumacher will team up with Vettel to represent Germany in the Race of Champions in Beijing in November.
Although he is satisfied he is fit to compete in that event, Schumacher played down the likelihood of any future return to F1 after having to abandon his planned comeback this season because of a neck injury.
"I'm working out a bit and doing go-kart racing - it's one story the Race of Champions, but it's another thing for F1," said Schumacher.
"I don't need to say yes and I don't need to say no - there's no reason to be confirmed."