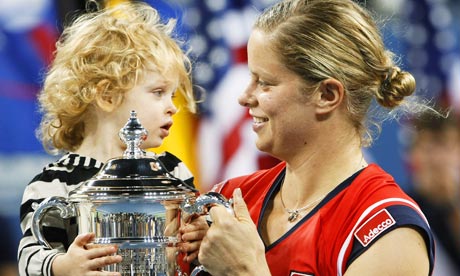 Of the four players who took to Wimbledon's Centre Court back on May 17, becoming the first to play under its new roof, Kim Clijsters was the one talked about the least.
Andre Agassi, Steffi Graf and Tim Henman commanded more attention, which would hardly be the case if the event happened now, following the Belgian's stunning US Open triumph on Sunday night.
Before that celebratory occasion of early summer the other three were somewhat
nervous about how they would perform back on the big stage, but not Clijsters.
She was already back in serious training, and tennis's parish pump was quietly reporting that she was playing top 50 players in private practice matches and starting to beat them.
'You could tell that she was getting back into very good physical shape and hitting the ball extremely well,' her mixed doubles partner of that day, Henman, recalled.
'I thought then that she would perhaps be challenging at the top 12 months after coming back, but you would never have thought it would happen so quickly.
'She is further proof that form is temporary and class is permanent, and everybody will be very pleased for her because she is such a nice person.'
The thoroughly well-adjusted Clijsters never envisaged it happening so fast either, as she admitted after capturing her second US title with a straight sets win over Denmark's Caroline Wozniacki.
'I really thought I was coming here to get used to being at a Grand Slam again, get used to the emotions, and then that would set me up for next year,' she said.
'Winning it is beyond my wildest dreams.'
The obvious conclusion to draw is that her more than two-year sabatical, and everything that occured during that time, has been an enormous help to her tennis in emotional, practical and physical terms.
Clijsters
experienced three massive life events while away from the sport — getting married, having a child and losing her father to illness. At 26, she is a far more rounded individual than those she is duelling against on the court. As for all working mothers, good time-management skills are essential.
During Sunday she even adjusted her daughter Jada's daytime naps so she could be there in the stadium for the late-night final. In the broader picture she has meticulously organised her comeback, making sure she was fully ready to play at the highest level by early August and assembling the travelling caravan of coach, husband, nanny and family support to ensure the right environment for top-level performance.
As she pointed out, her life experiences may have been most beneficial in absorbing the pressures of competition.
'I have come to understand myself much better and that helps when dealing with your emotions. Like the situation with Serena in the semi-final, when you're 18 or 19 these things can have a big impact on you, or if you get a win like I did over Venus you can get carried away or nervous. The biggest difference is that I know myself better.'
Some scientific evidence suggests that bearing a child can also have a beneficial physical effect on aerobic capacity and flexibilty, and one thing that is clear is that
Clijsters
' fitness and ease of movement are better than ever.